NOW AVAILABLE!
Head & Heart: Becoming Spiritual Leaders for Your Family (Emmaus Road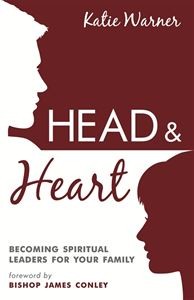 Publishing) by Katie Warner, foreword by Bishop James Conley.
Head & Heart unveils characteristics for strong spiritual leadership, and gives you creative and practical tools to help you better lead and love your family toward heaven, while discovering a family life filled with intentionality, joy, and meaning.
The book, filled with inspiring stories, effective catechesis, and practical action steps, was written for individual use at home or for use in dioceses and parishes, marriage ministries and marriage preparation, adult faith formation, men's and women's groups and book studies, and for supplemental formation of parents whose children are in Catholic schools.
Endorsements for Head & Heart:
Home and hearth mark the ordinary path that leads to heaven. It's where we make progress — or we get lost. Katie Warner has drawn up a map we can read and follow, so that we all arrive at the goal, together with our families. —Dr. Scott Hahn, Founder and President of the St. Paul Center for Biblical Theology, Bestselling author and speaker
This book is for anyone who wants the Catholic faith to play a stronger role in marriage and family life, but aren't sure practically what to do. With a wide range of practical advice and stories from people of all ages and family sizes, Head & Heart will help you take small steps toward building a vibrant Catholic identity in your home. – Dr. Edward Sri, author of Men, Women & the Mystery of Love and A Biblical Walk through the Mass.
Katie Warner is right: our times call for strong spiritual leadership, especially within the home. When husbands and wives discover that they have a mission from God, with unique complementary roles, and that God provides them the grace to fulfill those roles together, then the Church in our day will bear much fruit. St. Pope John Paul II said, "As the family goes, so goes the nation." May this book help many of our families go forward confidently and joyfully, taking up God's plan for marriage. —Most Reverend Thomas J. Olmsted, Bishop of Phoenix
The family is a work of art; it will not create itself. Great artists sacrifice everything for their masterpiece—they fix every mistake and apply each brush stroke with love and care creating a treasure for the ages. Should we treat our families any differently? Husbands and wives, dads and moms need skills and determined efforts for their families to thrive. Warner provides guidelines and encouragement to assist parents in taking up their leadership responsibilities in creating and nurturing a masterpiece for heaven. Read this book now and your children will thank you later. —Steve Ray, Author of St. John's Gospel, Upon This Rock, and Crossing the Tiber
It is one thing to tell young people that they need to raise their family Catholic, it's another thing to show them how. Katie has given us clear direction on how your home can become a school of love and the place where wisdom and holiness are learned. –Jeff Cavins, Creator of the Great Adventure Bible Timeline.
In her book, Head & Heart, Katie Peterson Warner gives this generation of Catholic parents a valuable tool in not just parenting their children but leading them to holiness.  What an important vision for every family to have, and this book gives practical examples of how to do it!  I think Saint John Paul the Great captured the importance of this mission when he said, "As the family goes, so goes the nation and so goes the whole world in which we live."  —Tom Monaghan, Founder of Ave Maria University & School of Law and Founder of Legatus
We Catholics have the Bible, the sacraments, the Catechism, and the wisdom of the saints. So why do so many of us navigate through life like we don't have a map? In Head & Heart, Katie Warner not only shows that strong leaders come from strong families, which are built upon strong marriages, she offers hope to those who grew up in dysfunctional family environments where the head and the heart have been separated. As an antidote, this fine book normalizes holiness for each family member and shows how within reach it is. The only one holding you back is you. —Patrick Coffin, Host of Catholic Answers Live and author of Sex Au Naturel: What It Is and Why It's Good For Your Marriage, Co-founder of Immaculata Pictures
This is a most welcome guide for any parents who are serious about strengthening their families and growing with their children in the spiritual life.  Parents are the first and most important teachers of their children.  Katie Warner and those Catholic parents who have contributed to this work give indispensable and reassuring guidance to parents in their work of becoming spiritual leaders.  At this time, when family life is threatened in so many ways, do your family a big favor, and read this book. —Bishop Michael Sheridan, Bishop of Colorado Springs
I believe the very best books are born in a moment of urgent need. After an intense an illuminating conversation with her husband about being the Catholic leader of their home, Katie saw the need for a practical guide map for other couples to help them create authentic Catholic homes and stronger families.  The result is this excellent book. 'Head and Heart' is a true gift to everyone in the Church, regardless if you are single or married, a new couple or great-grandparents. So often we desire to change or try something difficult, but we don't know how to get started. If you desire to build a stronger marriage and a Catholic home built on an excellent foundation, read 'Head and Heart'. You will be glad you did! —Randy Hain, Author of Journey to Heaven: A Road Map for Catholic Men, Joyful Witness: How to Be an Extraordinary Catholic and Special Children, Blessed Fathers: Encouragement for Fathers of Children with Special Needs
"Katie Warner brings to light some of the acute issues plaguing families in our modern society and offers some practical insights on how to deal with them. We should never forget that the family is the foundation and soul of society. In this book, Katie demonstrates why and how we can continue with this indispensable task of strengthening our families."  —Fr. Henry Atem, Pastor of St. George Catholic Church, Archdiocese of Atlanta
Today, it's not unusual for young, Catholic parents to find themselves deficient in knowing how to create a faith-filled atmosphere into their growing families. Katie Warner has combined her own experiences and insights with those of other Catholic parents to provide a complete book of instructions, inspiration, and lots of great ideas for immersing families into a Catholic culture. It's practical, uplifting, and leaves no stone unturned. —Patti Maguire Armstrong, Author, speaker, and Catholic mother to 10
What better way to encourage the spiritual leadership within families than to share the wisdom of those who are in the trenches and are walking the talk. Head & Heart is a great tool to help families and individuals in their role as formatters of future disciples. —Bishop Sam Jacobs, Bishop Emeritus of Houma-Thibodaux
Head & Heart: Becoming Spiritual Leaders for Your Family is a great tool for husbands and wives and a special gift to families. Raising faith-filled children within healthy Catholic families is a challenge in light of all the distractions and influences of our culture and I welcome support for our families that is soundly based on the Scriptures and Catholic teaching, which shares useful insight as well as practical methods. —Monsignor Peter Rau, Pastor of St. Peter Chanel Catholic Church, Archdiocese of Atlanta