Free Resources
Now for your free resources! Stay tuned for updates to this free resource page and check out my shop for more great Catholic products!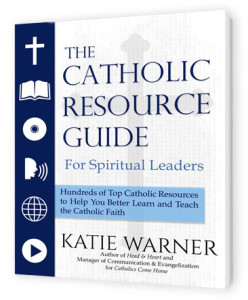 Catholic Resource Guide
A massive list of online, print, audio, and video resources – organized by topic – to help you learn and share the Catholic faith.
Spiritual Goal Planning
Spiritual Goal Planning Worksheet with accompanying example page. Use the template to set spiritual goals for yourself and make real progress in your spiritual life.
Christmas Donation Card
Card notifying friends and family that you have made a Christmas donation to one of their favorite charities! Makes a great addition to your mailed Christmas cards or a perfect present-topper! These were one of my friends and family's favorite gifts to receive last year.
The Virtue-Focused Year
An action-oriented, printable e-book to help you grow in virtue. Includes virtues, reflections, and simple to-do lists on each page.
How to Spiritually Prepare for Marriage
A great resource for engaged couples to find simple ways to spiritually prepare for marriage. Also great for married couples looking for ideas to spiritually enrich their marriage!
Prayer Jar Cards
Print out several copies, cut, and write your families prayer intentions on the cards. Then add to a jar and pull intentions from it during family rosary or prayer time. It's such a great way to keep up with the requests you've been asked to pray for and to involve children in a tangible way!
The Catholic Picture Book List
Enjoy this sampling of our family's favorite faith-based reading selections for all year – from your average Tuesday to the Lent & Easter seasons, Advent & Christmas, and even special feast and saint days!
Head & Heart Supplement
Are you reading Head & Heart on your own, with your spouse, or with a group? Or are you a parish who has ordered several copies for parents in your community? Grab all of your free supplemental resources for the book here!