Godparents have the opportunity to play such a special role in their godchild's life, but it's not always obvious what to do to fulfill the role of godparent after checking the "attend the baptism" box.
My children's godparents celebrate their yearly baptism anniversaries with cards and small religious gifts, and they model their faith whenever they are around our kids. I picked up these same practices when I became a godparent, too, but I found myself wanting to do more.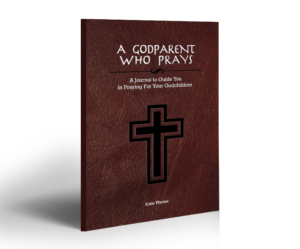 I love to pray regularly for my godchild, and now there is a resource that provides a tangible and beautifully spiritual way to be a great godparent.
The duties of a godparent don't have to – and shouldn't – end on a godchild's baptism day. Perhaps there is no greater gift we can give our godchild than the gift of our ongoing prayers. Godparents can help the life of grace flourish within their souls in praying fervently for them, aiding God in transforming them into the persons He desires them to be.
A Godparent Who Prays: A Journal to Guide You in Praying for Your Godchildren is a simple prayer guide and journal to give you the motivation and tools you need to make praying for your godchild a priority this year—and always.
A single journal can be used to pray for all of your godchildren or multiple can be purchased so you can devote one journal for each godchild. It is also designed to be gifted to the godchild or his/her parents, if the godparent chooses to, or it can remain a private prayer diary and accountability tool for the godparent.
You can learn more about the journal here. It makes a great godparent gift, too!
And, if you haven't already, check out the companion journals: A Parent Who Prays and A Grandparent Who Prays.