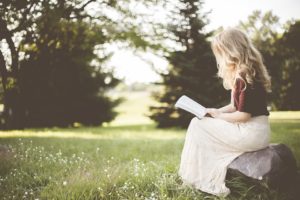 Especially in the past few years, as the demands of parenting and ministry increase, I have found that a good daily devotional is a gem for my spiritual life. It gives me a doable way to commit to fostering my relationship with the Lord everyday, even when life seems really busy. Along with daily Scripture reading, I find that setting aside time to quiet my soul with a beautiful devotional has become one of the relished parts of my day.
Looking for a good devotional to introduce into your routine? One of these is likely to be the right fit:
In Conversation with God: Grab the whole set to keep you praying with this devotional for a year, or even consider just a single volume to pray with during a particular season. This classic devotional draws on the daily Mass readings, the liturgical seasons, and wisdom from the saints, never disappointing in its beauty and content. When I asked some blogger friends of mine which devotionals they recommend, this was probably the most frequently mentioned one.
The Better Part: My friend Erin recommended this prayer resource to me a few months ago, and I am so glad she did. I didn't even make it through the introductory material before I was completely hooked by its outlook on how and why to become more dedicated to meditative prayer on a daily basis. The Amazon description says this book should be considered a "national treasure" and though that's a pretty big claim, I might have to agree.
The Magnificat: This was my husband's favorite subscription for a long time, and if you're looking for a compact, on-the-go devotional, this is a great option. It is a perfect companion to tag along in your purse or in the car for those moments when you want to connect with the Lord while you're at daily Mass, on lunch break, or in the carpool line. It also follows the daily Mass readings and saint days.
Liturgy of the Hours: Whether you use the classic print editions or the convenient Laudate app, the Divine Office is the consummate daily devotional for Catholics, and doesn't need to be prayed in its entirety to enrich one's spiritual life. Pray morning or evening prayer to get your feet wet with this beautiful prayer practice. As the Office of the Sacred Congregation for Divine Worship explains, "From ancient times the Church has had the custom of celebrating each day the liturgy of the hours. In this way the Church fulfills the Lord's precept to pray without ceasing, at once offering its praise to God the Father and interceding for the salvation of the world."
Blessed Is She: *for women* These daily devotions are an awesome option for you digital pray-ers. You can sign up to receive these beautiful reflections on the daily readings sent to your inbox, so you can pull it up on your smartphone anytime, anywhere.
I hope one of these devotionals enriches your prayer life!
* This post may contain affiliate links.