Perhaps there is no greater gift we can give our children than the gift of our prayers. Prayer can literally change their lives. It's that powerful.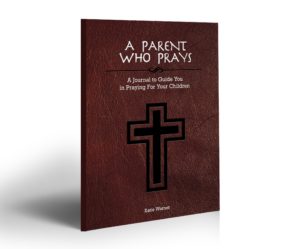 We marvel at how the prayers of Saint Monica, mother of her wayward son, Augustine, worked in conjunction with the Holy Spirit to bring him back to the ways of the Lord and put him on the road to sainthood. We treasure the witness of Saints Louis and Zelie Martin, parents of Saint Therese of Lisieux, who lived their lives as a prayer to God and passionately prayed for their daughters, who all entered the religious life and lived extraordinarily faithful lives.
I don't want any less for my own children. Honestly, though, life happens, and I'm not always as intentional about praying for my children consistently in the way I really want to be praying for them. But in the times we are living in, our kids need the fervent prayers of their parents!
Enter this new resource that I am so passionate about, because I need this just as much as the next Catholic parent, and I haven't really found anything like it. 
A Parent Who Prays: A Journal to Guide You in Praying for Your Children (affiliate link) is a simple but transformative little journal to guide you in praying for your children. It will give you the motivation and tools you need – including 52 unique special intentions (one for each week of the year) – to make praying for your children a priority over the next year—and always.
I could tell you more about it, but I'll let you take a look for yourself. Check out A Parent Who Prays and grab more than one copy; chances are you know someone who is just as interested in learning how to pray more intentionally for their children as you are.
Better still, if you desire to gift this beautiful little journal to your child after completing it, you may want to grab a copy for each child you plan to be praying for. If you'd rather keep it private, one journal can suffice for all of your kids.
And I have some great news for you grandparents, too. A Grandparent Who Prays is also now available! (affiliate link) Make sure you grab a copy and pass this onto fellow grandparents you know. The prayers of grandparents can't be underestimated. Pope Francis has said, "How important grandparents are for family life, for passing on the human and religious heritage which is so essential for each and every society!"