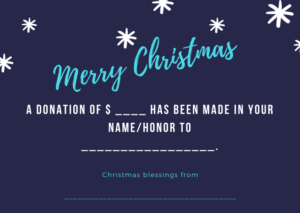 This Christmas, I wanted to give some of my family and friends a gift that not only meant something to them, but also helped those in greater need this Christmas season, attempting to answer the Matthew 25:40 call to serve the Lord through serving the "least of [His] brethren." I asked a number of my loved ones what their favorite charitable organizations and causes were, and I made a donation to one of their favorites in their name/honor. Then I printed out this handy little snowflake card letting them know! I put their Charity Christmas Gift Cards in the mail, along with my traditional Christmas cards, but maybe next year I'll use them as present-toppers on wrapped gifts.
Every family member or friend who received one loved it. I'll definitely be doing this again!
Feel free to pop in your name and email address below to gain access the card file, which is part of a library of free resources!